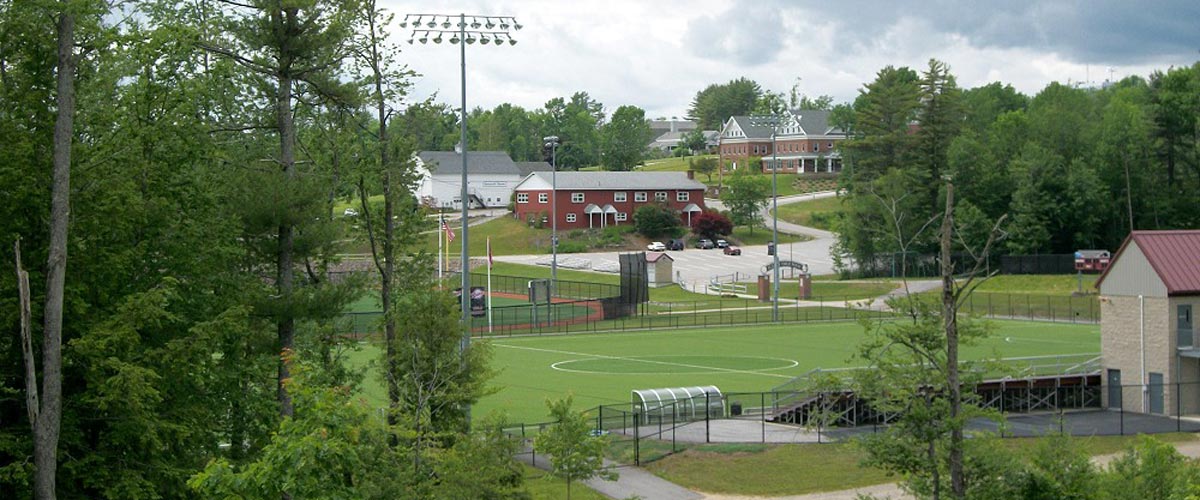 Athletic Fields: Site Development, Construction and Renovation
Leighton A. White, Inc. provides a full range of new construction and renovation services to municipal and institutional owners of athletic fields. Our company has done all phases of baseball, softball, football, soccer, and lacrosse field construction and maintenance. We have kept some of the best fields in great playing condition for the athletes in our area for many years.
Athletic Fields Services:
All types of athletic fields
New construction
Total renovation
Ledge and large boulder removal
Soil Science and engineering issues
Wetland/Environmental construction and repairs
"The finest field that I have ever seen bar none...Absolutely gorgeous!"
"I stopped by and photographed your baseball field this morning and was blown away. I have been to professional ballparks all over the country. Pappas Field is the finest field that I have ever seen bar none. A puddle the size of a dime wouldn't stand on that field. Absolutely gorgeous! You and your company should be exceptionally proud of that level of work."
Richard Clark Photography
AUGUST 31, 2004
Pappas Field - Franklin Pierce University, Rindge, NH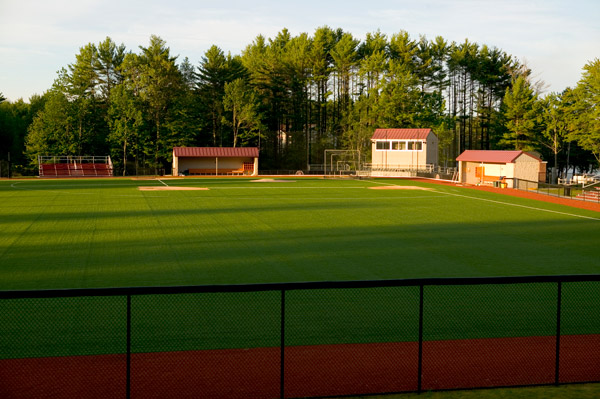 Pappas Field was a job that could not have, should not have been possible. However, the dedicated team at Leighton A. White, Inc. made it happen.
On August 26, 2004, the VP and Director of Athletics at Franklin Pierce College in Rindge, NH contacted Dale White, VP (at the time) of Leighton A. White, Inc. He was requesting help in finishing an NCAA ball field that had been started by another contractor. At first, Dale said it could not be done. Then, upon seeing the desperate situation the college was in, he decided to evaluate the status of the project.
Upon first inspection, the field looked like a war zone. It would be impossible to undo, then redo the work in the fast-narrowing timetable while maintaining their impeccable reputation for safety and superior work. However, by August 30, after meetings with his project manager and company employees, they decided to take on the formidable project. The following day the college job site was in full gear.
Once started, the project became an even greater challenge. Two different sets of plans had been in use, material that was supposedly on-site was not, incorrect elevations, incorrect drainage, improperly backfilled pipe – the list of obstacles was endless. In addition to these seemingly insurmountable challenges, the artificial turf being used was imported from Sweden, bringing its own set of difficulties. These included time zone changes, language barriers and no initial personal contact with the company. Added to the mix was a college campus filling up with students for the fall semester, bringing foot traffic, parking difficulties, and fall sports.
The project required a lot of dedication and many long hours from our team. We kept our focus over a ten week period and met each challenge with determination. Finally, on November 11, 2004, we looked out upon the completed project: clubhouse, bleacher pads, backstops, water, sewer, lights, press box, communication office and a beautiful field. Against all odds, we had completed the impossible mission.
| | |
| --- | --- |
| NOVEMBER 11, 2004 | |
FAMILY OWNED & OPERATED • ESTABLISHED 1978
Excavation & Sitework: Commercial, Industrial, Municipal, Residential
Underground Utilities • Communications Site Development & Maintenance
Landscape & Construction Materials Sales & Delivery (New Hampshire & northern Massachusetts):
Screened Loam, Gravel, Sand, Stone, Fill, Top Soil, Aggregate, Crushed Concrete, Stone Dust, Presby Sand, RAP
Member:
Association for Facilities Engineering
Member:
Associated Builders & Contractors
WE ACCEPT:
Areas served include, but are not limited to: Bedford NH, Brookline NH, Concord NH, Exeter NH, Greenfield NH, Greenville NH, Hampton NH, Hollis NH, Hooksett NH, Keene NH, Manchester NH, Merrimack NH, Milford NH, Nashua NH, New Ipswich NH, Peterborough NH, Portsmouth NH, Raymond NH, Rindge NH, Wilton NH, Ashby MA, Chelmsford MA, Fitchburg MA, Groton MA, Pepperell MA, Townsend MA, Tyngsboro MA, Westford MA